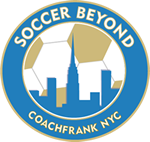 Soccer Beyond YOUTH
Talent Development and Casual Programs by Soccer Beyond, NYC's #1 Adult Soccer School.
Or email us at GoBeyond@SoccerBeyond.com
Preparing for Tryouts, High School & College Teams, Pro Soccer
Quick Facts:
We offer Group Programs as well as Individual Training & Mentoring.
Our programs range from casual to high intensity.
Our programs also promote a healthy can-do mentality, excitement and determination.
As part of our Talent Development Programs teenage players may join our adult programs to improve robustness and quickness of mind.
Fun is good, excitement is what we strive for. From our view excitement kindles ambition.
We go beyond. Soccer is part of life and we connect the dots.
Our coaches are experienced, professionally trained, actively playing themselves, and great personalities.
We inspire to make the extra mile a piece of cake.
| Group | Mondays | Tuesdays | Wednesdays | Thursdays | Fridays | Saturdays | Sundays |
| --- | --- | --- | --- | --- | --- | --- | --- |
| Ages 12-14 | 4.30pm | 4.30pm | 4.30pm | 4.30pm | 4.30pm | 9.00am | 9.00am |
| Ages 15-18 | 5.30pm | 5.30pm | 5.30pm | 5.30pm | 5.30pm | 12.30pm | 4.30pm |
| Location | Pier 25 | Cadman Plaza Bklyn | Pier 25 | Pier 25 | Pier 25 | Pier 40 | Long Island City |
60min Trainings Sessions / Drop-in rate $25 / Package: 10 Sessions - $200
About Soccer in the U.S., Soccer Beyond and Coach Frank
"Wow. I'm tired now, but that was fantastic.

Thanks so much for the class today. Nico really enjoyed it.

We had a great time, that was perfect.

Scored off a sweet header today, our drills came in handy.

Awesome. I learned a lot.

Knowledgable and helping my game.

Very organized, practical, and effective."



#Skills #Excitement #Achievement
Soccer Beyond Instinct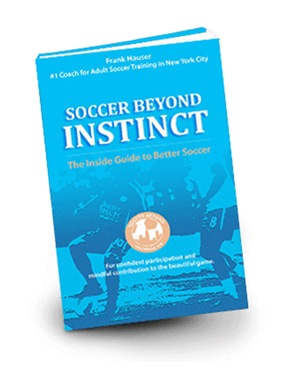 Our book "Soccer Beyond Instinct" is a powerful guide for parents and teanage players, an inside perspective on how to become fun to play with. Click on the book image to look inside.
Private Training


Email Coach Frank at frank@SoccerBeyond.com or use the Contact tab to reach out for more information. Thank you.
Gift Success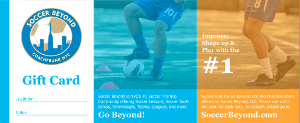 Redeem for everything. Never expires.
How to redeem?
A truly amazing idea. Memories of great experiences last longer than the initial excitement over things!
We at Soccer Beyond offer unique programs crafted to develop skills & agility,
streamline mental quickness & decision making, and foster discipline & commitment
within in a fun and "the sky is the limit" atmosphere.